Welcome to the Harlem Fine Arts Fair Like Never Before!
View art in the Latest 2D & 3D Virtual Reality
Subscribe to stay up-to-date on all upcoming events.
Black History Month: Fire Side Chat Live Stream
*Dates subject to change by HFAS management
60+ booths presented by select artist and galleries in striking virtual reality – from the Producers of the International Harlem Fine Arts Show
Featuring International Artists
Al Johnson — Al Johnson The Artist
Cassandra Harrison — I AM DOLLS
David Dixon — DAVID K. DIXON
Diana Shannon Young — Diana Shannon Young Fine Art
Don O'Bannon — O'BANNON STUDIOS
Elizabeth Baez — ELIZABETH BAEZ
Frank Frazier — FRANK FRAZIER
Glenn Tunstull — Tunstull Studio
Jay Roberts — JMR Designs
Joan Spence — SPENCE GALLERY
John Pinderhughes — John Pinderhughes
Joy Lyons — JOY LYONS ART
Lisa DuBois — Lisa Dubois
Matthew L. Davis — MatyoCreations
Michael Escoffery — Michael Escoffery Studios
Michelle R. Cobb — Michellereneart
Nyeisha Jaze Padmore — Nyeshia Jazè J Padmore Creative Artist
Peggy Toone — BLUE LEAF INTERNATIONAL ARTS
Roederick Vines — Roederick Vines
Stanwyck Cromwell — Stanwyck Cromwell
Wendolyn Kendrick — ART BY WEPA – Wendolyn Kendrick
Danny Simmons — Danny Simmons
Chris Osborne — Chris Osborne
Aaron Reed — AARON REED GALLERY
Kalen McQuire — Kalen McQuire
Sharon Robinson — Sharon Robinson
Otto Neals — Otto Neals
Myrah Brown Green — Myrah Brown Green
Christopher Crenshaw — Christopher Crenshaw
Donna Ladson — D'Artist Donna Ladson
Che Baraka — Che Baraka
Keiona Clark — DMV League of Artists
Ademola Olugebefola — Ademola Olugebefola
Soweto Gallery — Soweto Fine Art Gallery
Joanne Graham — The Graham Collection
Elvin Kince — Elvin Kince
Omar Canate — Omar Canate
George Balams — G. Bodie Balams
Georgia Fullerton — Georgia Fullerton
Larry Brown — Ancestral Beads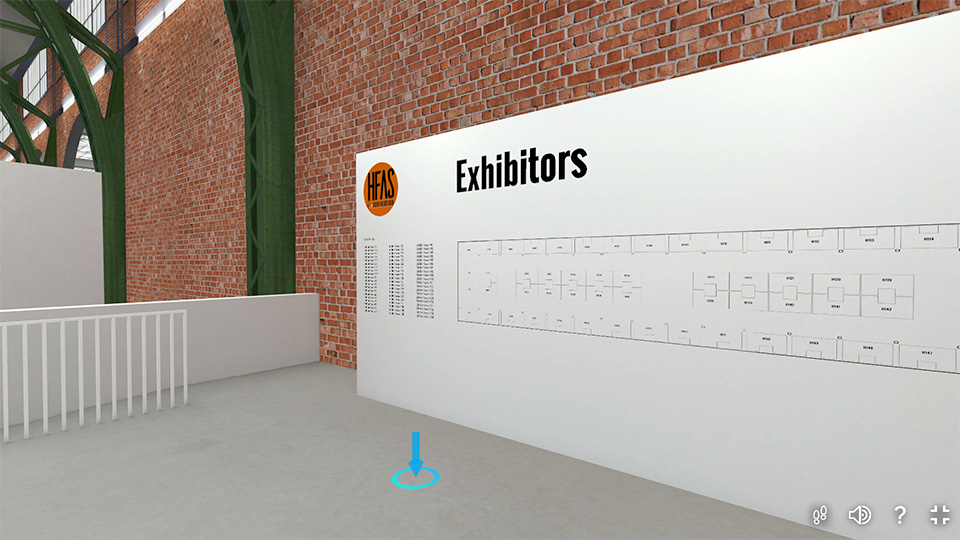 Lobby: Online Viewing Rooms
February 2021 – July 2021
Online Viewing Rooms is HFAS's virtual platform connecting the world's leading galleries with our global network of collectors and art enthusiasts. Our show will be dedicated to artists who have lead the African Diasporic art world internationally.  HFAS Virtual will run February 2021 – July 2021, and feature 60 galleries.
Open 7 days, from February 2021 to July 2021
Examine each gallery's artworks, singularly and vividly, in both 2D or 3D on the wall
Enter each gallery's full VR display (virtual reality), and meander within the booth to discover art in HD quality or walk around sculptures with BUY Now or dealer inquiry options
1000+ important artworks are available for immediate acquisition
Featuring 60 artist and gallery displays, from around the world highlight the African Diaspora
Presenting both solo artist displays as well as themed displays
Artist's Audio Guide (some artists are not doing the audio guide)
Special Programming – VIP Experiences
Showcasing the finest African Diasporic Art
Art pieces range in price from Art pieces range in price from $250 to $10 million
Technically, the platform's superior VR (virtual reality) video interface offers many cutting-edge features. To enhance the viewing experience with precision, we offer the enlarged highlight box (occurs when a visitor approaches the piece) with appropriate artwork info, as well as a magnified zoom for greater inspection capability, 3D video viewing, and narrative audio content.
Searching the galleries is intuitive, requiring only a mouse or arrow keys to navigate the online viewing rooms on desktop or touchscreen. It invites visitors to step inside the interactive 3D spaces – which are easily accessible by desktop computers, tablets, or cell phones, round the clock.
About Harlem Fine Arts Show
As the largest traveling African Diasporic art show in the United States, HFAS prides itself on its uncanny ability to bring people of all different backgrounds together to celebrate the fine arts of the African Diaspora. Inspired by the Harlem Renaissance, HFAS provides a platform African Diasporic Visionaries as well as American visual artist to exhibit and sell their artwork. The Harlem Fine Arts show has also created economic empowerment, educational opportunities and professional recognition within the multicultural community. First held in February 2010 in New York City, the Harlem Fine Arts Show has attracted more than 80,000 visitors to venues, including Martha's Vineyard, Washington, D.C., Atlanta, Chicago, White Plains, NY and New York City. Attendees include collectors, art enthusiasts, educators, students and professionals.